Outstanding REALTOR® Association Web Site Contest
This year, we're seeking website entries from REALTOR® associations that reflect how associations have delivered what members want most in an association website.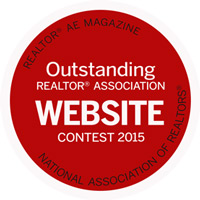 For example, do your members want a member-only site? Do they want a mostly consumer site with a member area? Do they want an advocacy site or should a property search portal be most prominent? There's no single approach. Enter your best sites! All entries must describe how they gauge (or gauged) member need in the building of the site and/or how they track member need and respond to it on an ongoing basis. The more details your provide, the greater your chances of being selected as a winner to be featured in our Spring 2015 issue of REALTOR® AE magazine!
Deadline
March 4, 2015
Rules
Only state, local, and commercial REALTOR® associations are eligible to enter. Brokerages, and REALTOR® members are not eligible. Associations can enter more than one site. Judges are NAR and REALTOR® AE magazine staff and our editorial board AEs. There are no prizes but winning campaigns will be featured in REALTOR® AE magazine's spring 2015 issue and online. All website entries must be currently live online so judges can visit them (no screen captures or PDFs). Winners will be notified March 13.
How to Enter
All state, local, and commercial REALTOR® associations are eligible to enter.
Enter here: RAE's REALTOR® Association Outstanding Website Contest
For more information, contact Carolyn Schwaar, Editor, REALTOR® AE magazine: cschwaar@realtors.org.