Realtors® Help CFPB Director Cordray Unveil New Know Before You Owe Online Tools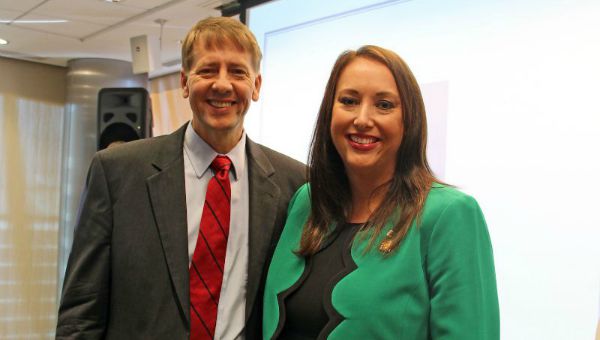 Consumer Financial Protection Bureau Director Richard Cordray and National Association of Realtors® 2015 First Vice President-Elect Elizabeth Mendenhall
WASHINGTON (September 17, 2015) — Consumer Financial Protection Bureau Director Richard Cordray today joined National Association of Realtors® 2015 First Vice President-Elect Elizabeth Mendenhall to highlight the agency's Know Before You Owe initiative in advance of upcoming changes to the mortgage closing process.
At the event, the CFPB rolled out a set of online tools to help consumers get better acquainted with what the Know Before You Owe initiative means for them. As part of this initiative, the Truth in Lending Act - Real Estate Settlement and Procedures Act Integrated Disclosure rule, or TRID, will integrate existing closing disclosures with new requirements from the Dodd-Frank Act. The new tools released today are intended to improve consumers understanding of the mortgage process, aid in comparison shopping and help prevent surprises at the closing table. Rule changes associated with Know Before You Owe go into effect October 3.
"Realtors® play an important role in keeping consumers educated about changes in the home buying process, and that includes rules related to the Know Before You Owe initiative," said Mendenhall. "The journey to homeownership begins with Realtors®, and CFPB's new online tools are a great resource for agents to help clients shop for a mortgage and prepare for the changes coming their way."
The CFPB's online tools are directed at consumers who may still be unaware of the Know Before You Owe initiative. "Our new mortgage forms reduce the information gap between lenders and consumers, shedding light on a process that often feels like a mystery," said Cordray. "It is time consumers have more power in the mortgage process, and our new forms and online tools will help make that a reality."
The toolkit offers a guide to the new mortgage closing forms, a closing factsheet, a disclosure timeline and educational videos to assist consumers. Realtors® across the country have worked through the summer to educate themselves on rule changes related to Know Before You Owe so they can continue providing expert advice to clients when the new rules go into effect.
The event also featured a panel of industry experts, including Patricia McClung, CFPB assistant director for Mortgage Markets; Nick D'Ambrosia, senior vice president and managing broker at Long & Foster Real Estate; Joe Gormley, assistant vice president, regulatory counsel at the Independent Community Bankers Association; and attorney Andrew Pizor, National Consumer Law Center.
NAR has worked closely with the CFPB to address Realtor® concerns related to Know Before You Owe rule changes. In May, NAR President Chris Polychron testified before the U.S. House Financial Services Committee that a proposed August 1 TRID implementation date presented a challenge to the industry during the busy summer buying and selling season. The CFPB later moved implementation to October 3, in recognition of those challenges.
The CFPB also responded to concerns from NAR and others in the industry by announcing it would be "sensitive" to companies making a good-faith effort to comply with the new rules. When the new rule goes into effect, Realtors® and their clients will encounter new forms and procedures at the closing table.
"NAR is pleased that CFPB Director Richard Cordray could join us for this important event," said Mendenhall. "CFPB's cooperation is important to ensuring Realtors® have what they need to educate clients on what's ahead. We look forward to working with CFPB in the months ahead to ensure Realtor® concerns are considered throughout implementation and thank them for their continued attention to our issues."
The National Association of Realtors®, "The Voice for Real Estate," is America's largest trade association, representing over 1.1 million members involved in all aspects of the residential and commercial real estate industries.
# # #
Video: CFPB Director Richard Cordray's Remarks
Video: Elizabeth Mendenhall's Interview with Richard Cordray