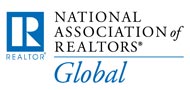 The international speaker cadre is designed to assist in spreading the message of the importance to U.S. REALTORS® of understanding the business potential of a global marketplace, and to expose more members to the available resources offered by NAR to help them succeed in this market; and to allow NAR-International to be more responsive to local REALTOR® Associations and/or firms, allied industry groups, etc., seeking a qualified presenter on international industry topics.
In building this database NAR has taken steps to ensure a basic level of qualification (speaker training certification, approved faculty for REALTOR® family designation and/or letters of reference). However, inclusion in the database does not represent NAR's endorsement of these speakers. Organizations using the database to identify a speaker are encouraged undertake their own due diligence to assess the speaker's qualifications. If more than one formal/qualified complaint regarding a speaker is received by NAR, the speaker will be removed from the database.
Find a Speaker
Looking for a speaker for your next event? The REALTORS® International Speaker Cadre has a searchable database of qualified speakers. Search by name, topic, geographical location, or search the entire database for the appropriate presenter. If you are interested in hiring a speaker, please contact the speaker directly (contact information is listed) to discuss availability, fees, and travel reimbursement.
If you have hired a speaker from the REALTORS® International Speaker Cadre, we want your feedback! Please fill out the Speaker Evaluation Form and return to NAR Global staff via fax: 1-312-329-8358.
Submit a Speaker Application
Interested in becoming a speaker in the cadre? To be considered as a member of the REALTORS® International Speaker Cadre, please submit an application form.
Have Questions?
Please contact Jennifer Wiziarde:
1.312.329.8389
E-mail: jwiziarde@realtors.org