Field Guide to the Warehouse Market
(Updated March 2016)
The outlook for the industrial/warehouse sector continues to brighten for 2015, including expected decreases in vacancy rates and projected gains in rental rates. The demand for warehouse space is on the rise and gaining the attention of companies and investors. This Field Guide provides you with market data and statistics; innovative ways to market and utilize warehouse space; and insight into the how the legalization of marijuana is making an impact on the warehouse industry. You'll also find some useful resources available from the National Association's Virtual Library. (K. Bartlett Walsh, Senior Quality Assurance/Customer Advocate)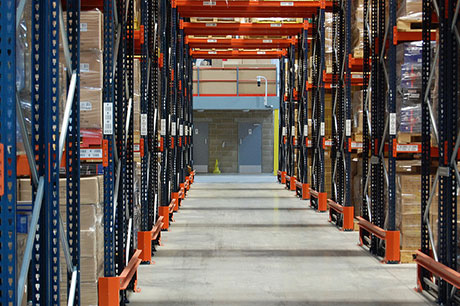 ---
E - EBSCO articles available for NAR members only. Password can be found on the EBSCO Access Information page.
---
Types of Ware​houses
Warehouses are the most common types of storage, however other forms do exist (i.e., storage tanks, computer server farms, etc.). Some warehouses are massive structures that simultaneously support the unloading of numerous in-bound trucks and railroad cars containing suppliers' products while at the same time loading multiple trucks for shipment to customers. Here we look at five different types of warehouses:
Private Warehouse: Owned and operated by channel suppliers and resellers and used in their own distribution activity.
Public Warehouse: Space that can be leased to solve short-term distribution needs.
Automated Warehouse: Advances in computer and robotics technology have enabled many warehouses to feature automated capabilities.
Climate-Controlled Warehouse: Space that is capable of storing many types of products including those that need special handling conditions.
Distribution Center: Warehouses where product storage is considered a very temporary activity.
Source: Types of Warehouses, (KnowThis, 2016).
Warehouse Market Data and Statistics
About the Warehousing and Storage Subsector, (U.S. Department of Labor Statistics, 2016).
Emerging Trends in Real Estate 2015, (PwC & Urban land Institute, 2015).
Location, Location, Location (Estates Gazette, Oct. 17, 2015) E
America's Favorite Second Home: Self–Storage, (REALTOR® Magazine Online, Apr. 21, 2015).
Real Estate Likely to Ride a 3–Year Wave, (REALTOR® Magazine Online, Apr. 10, 2015).
Six Trends in Commercial Real Estate to Watch for in 2015, (UrbanLand, Jan. 15, 2015).
Warehouse Space: The Next Big Real Estate Trend, (Fortune Builders, Jan. 23, 2014).
Expectations and Market Realities in Real Estate 2014 (Deloitte Development,, Real Estate Research Corporation, & National Association of REALTORS®, Jan. 2014).
Warehouses Becoming Boon for Commercial Real Estate (REALTOR® Magazine Online, Jan. 28, 2014).
Warehouse Brokerage & Investment
How to Estimate the Value on Warehouse Space (eHow, 2016).
What to Look for in a Property Manager (REALTOR® Magazine Online, Feb. 2015).
Ways to Make Money With Warehouse Space (Houston Chronicle, 2014).
How to Market Your Warehouse (Houston Chronicle, 2014).
Buyers Making Homes out of Warehouses (REALTOR® Magazine Online, June 2014).
Converting Commercial Properties into Homes, (Wall Street Journal, May 29, 2014).
How to choose the perfect warehouse space, (National Federation of Independent Business, Mar. 27, 2014).
Big Builder Test Drives Home Design Plans (REALTOR® Magazine Online, Sept. 18, 2013).
New uses for vintage warehouses, (Development, Summer 2013).
E-commerce fueling demand for industrial distribution space: How investors can access this key market sector, (Avison Young, 2013).
The new borderless marketplace: Repositioning retail and warehouse properties for tomorrow, (NAIOP Research Foundation & International Council of Shopping Centers, 2012).
Trending: Warehouses & Legalized Marijuana
Getting High on the Housing Supply – the Housing Crisis Amid Denver's Cannabis Boom, (New Republic, Jan. 1, 2016). E
Warehouse With More Than 700 Marijuana Plants Found in Vienna, Close to Police Dog Base, (Business Source Corporate Plus, Dec. 5, 2015). E
Maryland Makes Room for Medical Marijuana, (The Washington Post, Oct. 23, 2015). E
Colorado's Marijuana Industry Sparks Warehouse Space Crunch, (Time, Aug. 31, 2015). E
Illinois Approves 1st Marijuana Workers to Grow Legal Pot, (The Chicago Tribune, Jul. 12, 2015). E
Marijuana Growers Bidding up Warehouse Space in Denver, (Electrical Wholesaling, Feb. 1, 2015). E
Production Efficiency & Quality Vital to Cannabis Market, (Greenhouse Product News, Feb. 1, 2015). E
Real Estate Issues in a Flourishing Cannabis Market: Q&A with Oregon Broker Zach Stratford, (Marijuana Business Daily, Feb. 4, 2015).
Warehouse Cultivation Space at a Premium (Marijuana Business Daily, Mar. 12, 2014).
Pot-growing warehouses in short supply as demand for legal weed surges (The Denver Post, Mar. 11, 2014).
Pot sales spark warehouse boom in Colorado, (Washington Post, Mar. 11, 2014).
The Carbon Footprint of Indoor Cannabis Production (Evan Mills, Energy Associates, Apr. 2012).
eBooks & Other Resources
eBooks.realtor.org
The following eBooks and digital audiobooks are available to NAR members:
Commercial Real Estate Investing 12 Easy Steps to Getting Started (Adobe eReader, Kindle)
Commercial Real Estate Investing – A Creative Guide to Successfully Making Money (Adobe eReader, Kindle)
The Complete Guide to Real Estate Finance for Investment Properties (Adobe eReader, Kindle)
A Master Guide to Income Property Brokerage – Boost Your Income By Selling Commercial and Income Properties (Adobe eReader)
Successful Real Estate Investing — How to Avoid the 75 Costly Mistakes Every Investor Makes (PDF eBook)
Field Guides & More
These Field Guides and other resources in the Virtual Library may also be of interest:
Field Guide to Breaking Into Commercial Sales
Field Guide to Commercial Property Management
Field Guide to Investing in Real Estate
Field Guide to Marijuana Grow Houses
Field Guide to Marketing Tips for REALTORS®
Field Guide to REALTOR® Safety
Field Guide to Surviving and Thriving in a Challenging Market
Have an Idea for a New Field Guide?
Click here to send us your suggestions.
The inclusion of links on this field guide does not imply endorsement by the National Association of REALTORS®. NAR makes no representations about whether the content of any external sites which may be linked in this field guide complies with state or federal laws or regulations or with applicable NAR policies. These links are provided for your convenience only and you rely on them at your own risk.