Field Guide to Choosing & Using a Smartphone
(Updated March 2016)
Do you need a smartphone to get organized? What features do you need? How do real estate professionals use smartphones? Find out the answers to these questions and much more in the following articles and websites.
The definition of smartphone varies widely, but is generally defined as a cellular or mobile phone that is enhanced with computer technology functions such as internet and email access, personal digital assistant tools, handwriting recognition, and more. (Oxford English Dictionary, smartphone n.) (A. Creitz, Information & Web Content Specialist)
---
E - EBSCO articles available for NAR members only. Password can be found on the EBSCO Access Information page.
---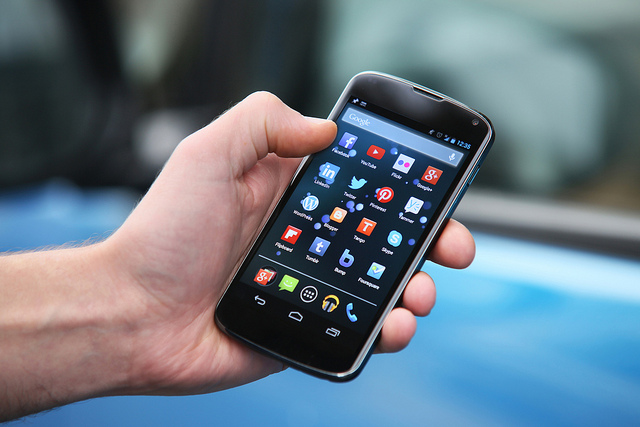 Credit: Flickr user Highways Agency
---
REALTORS®' Use of Smartphones
91% of REALTORS® reported daily use of smartphones with wireless email and Internet capabilities, (Source: Exhibit 1-13, National Association of REALTORS®' 2015 NAR Member Profile).
"[In 2013] more than half of REALTORS® now use Apple iPhones. iPhone use among REALTORS® continues to increase and is now at 52% from 45% in 2012. Android use has decreased slightly to 36%, while Blackberry continues to drop and is at 3% from 5%. Virtually all REALTORS® (93%) now use smartphones of some kind in their businesses."

Source: Center for REALTOR® Technology, 2013-14 REALTOR® Technology Survey Report.
---
Why Use a Smar​tphone?
Perhaps you choose life without a smartphone out of principle, maybe the thought of learning a new gadget seems more trouble than its worth, or possibly it is time for you to trade in an older cell or smartphone for a newer model; whatever your current reason for investigating smartphones, the articles below offer a foundational knowledge of what they are, why people use them, and how they can benefit you in both your professional and personal lives.
U.S. Smartphone Use in 2015, (Pew Research, Apr. 2015).
The Iterative Smart Home is Here, (Bits & Bytes, Jan. 16, 2014).
A Guide to Deciphering the Language of Smartphones, (New York Times, May 30, 2012).
Ounce of Prevention, (American Agent & Broker, Aug. 2011). E
Feeling Threatened? How to Use Your Smartphone as a Weapon, (REALTOR® Magazine, July 2011).
Mobile phones poised to become mobile wallets: NFC technology would allow users to pay for purchases using smartphones, (B to B, May 2, 2011). E
---
Choosing & Buying a Smartphone
Perhaps you are ready to acquire your first smartphone or replace an existing one. There are so many options: where do you start? The articles and multi-media below will help guide you through the shopping and review process.
How to Buy a New Phone: The CNET Smartphone Buying Guide, (CNET, Nov. 2015).
Choosing the Best Smartphone Plan for You, (New York Times, Sept. 2015).
How to Choose a Smartphone for Work, (TechRadar, July 2015).
Souped-up Smartphones, (REALTOR® Magazine, May 2014).
4 Ways to Keep Your Smartphone's Battery Healthy, Happy and Juiced Up, (Yahoo! Tech, Jan. 7, 2014).
---
Smartphones and Real Estate
Now you know what smartphones are and how they can supplement your personal and professional lives. But how can they complement the work of REALTORS®?
Real Estate Tech: Building a Mobile Presence, (Realty Biz News, July 3, 2014).
10 Best Apps for Real Estate Agents and Brokers, (Forbes, June 2014).
Quirky to Create a Smart-Home Products Company, (New York Times, June 22, 2014).
10 Best Smartphones for Real Estate Agents, (Realty Biz News, June 19, 2014).
Your Guide to Mobile Social Media: Phone and Tablet Strategies for Twitter, Facebook, and More, (TNW, June 14, 2014).
Title Insurance App from Realogy Subsidiary TRG Helps Agents Work with Buyers and Sellers, (Inman, June 10, 2014).
Controlling the 'Smart Home' with Tables and Smartphones, (New York Times, Mar. 27, 2013).
12 Tech Tools to Make Your More Mobile, (REALTOR® Magazine, Jan. 2014).
Warnings About Smartphone Damage in Cold, (REALTOR® Magazine, Jan. 24, 2014).
REALTOR® Membership Guide & Card App
Check out the Center for REALTOR® Technology's Bits & Bytes Blog for smartphone and other tech trends and tips:
---
Smartphones: Security
---
Additional Resources
CNET.com is similar to Consumer Reports in that the CNET editors review numerous cellphones, smartphones, computers, and a diversity of other technologies. The editors often create short video reviews of products along with a textual review, star rating, and product specifications. These reviews are supplemented by reviews and ratings from members of the public. CNET is a property of CBS Interactive. The web page for CNET's cellphone reviews can be found here.
PCWorld Magazine and PCWorld.com also offer a diversity of product reviews, specifications, ratings, forums, articles, and more. To access PCWorld's phone reviews, click here.
---
eBooks & Other Resources
eBooks.realtor.org
The following eBooks and digital audiobooks are available to NAR members:
Mobile Phones and Mobile Communications (Kindle and Adobe eReader)
Blackberry For Dummies (Kindle, Adobe eReader)
How to Do Everything iPod®, iPhone® & iTunes® (Adobe eReader)
How to Do Everything with Your iPhone® (Adobe eReader)
Professional iPhone and iPod touch Programming Building Applications for Mobile Safari (Kindle, Adobe eReader)
Field Guides & More
Field Guide to Digital Cameras & Photography
---
Have an Idea for a New Field Guide?
Click here to send us your suggestions.
The inclusion of links on this field guide does not imply endorsement by the National Association of REALTORS®. NAR makes no representations about whether the content of any external sites which may be linked in this field guide complies with state or federal laws or regulations or with applicable NAR policies. These links are provided for your convenience only and you rely on them at your own risk.