Professional Standards Education Seminar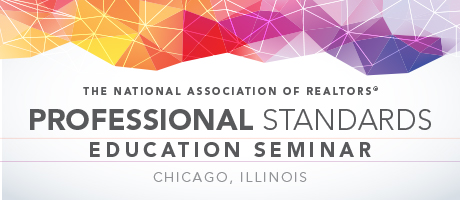 Dates for the 2018 Advanced Professional Standards Education Seminar in Chicago, IL, will be announced soon. Information on the Seminar can be found below.
Mediation/Mediator Training
Save time and money. Get a fresh perspective on resolving disputes. Maintain and build relationships.
Learn more about NAR's annual Mediator/Mediation Training.
The National Association of REALTORS® has sponsored and conducted this seminar at least once a year for decades and the program has been overwhelmingly well received by all who attend. Although all staff, counsel, and REALTORS® are welcome to attend, please understand that this is not a basic professional standards seminar. It is designed for individuals with a minimum of five years' experience in the professional standards arena. The content of the seminar is designed to challenge attendees.
About the Seminar
The seminar delivers a variety of participatory exercises and role-plays to give hands-on experience to attendees who serve on grievance committees, professional standards hearing panels, and appeal and procedural review tribunals. Participants will focus on how findings of fact should be written, participate in ethics and arbitration exercises, and receive a due process refresher. Invaluable information provided for administrators, as well.
Topics include:
Ethics complaints and appeals
Arbitration requests and procedural reviews
Due process
Procuring cause
Findings of fact
Mediation and ombuds
There will also be a question and answer session with experienced REALTOR® professional standards instructors joined by staff of the National Association of REALTORS®.
Benefits of Attending
State Association Executive Officers will appreciate the need for trained individuals to instruct state and local association grievance committees, professional standards committees, and boards of directors on Code enforcement issues, including the function of the grievance committee, the conduct of ethics and arbitration hearings, the role of the board of directors, procuring cause, mediation, and much more. We encourage you to take advantage of this opportunity to increase Code enforcement expertise among your instructor cadre by sponsoring two representatives to attend.
Seminar participants will be eligible for credit toward the RCE designation or toward re-certification. However, this course does not fulfill the education requirements for professional standards administrators related to professional standards policy statement #49, Code of Ethics and Arbitration Manual.
This seminar meets the six-hour Core Standards educational requirement for chief staff