Professional Standards Education Seminar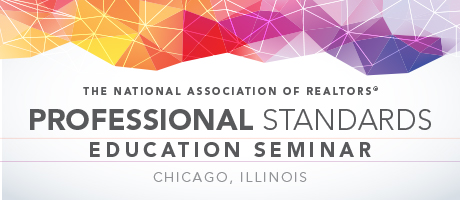 The Professional Standards Education Seminar will be held in Chicago on August 16 (8 am to 4 pm) and August 17 (8:30 am to noon).
Mediation/Mediator Training
Save time and money. Get a fresh perspective on resolving disputes. Maintain and build relationships.
Learn more about NAR's annual Mediator/Mediation Training.
The seminar will be held at the Hotel Palomar at 505 N. State Street. An hour reception will immediately follow the close of the first day to allow participants from across the country to discuss common concerns.
Hotel accommodations are not included in the $600 registration fee (non refundable after July 10). Reduced rate room accommodations are available at $209.00 (king deluxe/double occupancy) if reservations are made on or before July 31. Reduced rate hotel reservations can be made here or by calling the Hotel Palomar at 877-731-0505 (reference NAR's Professional Standards Education Seminar). If you use a travel agent to make room reservations, you may not be able to secure the same reduced rate that we have negotiated with the hotel.
Seminar participants will be eligible for credit toward the RCE designation or toward re-certification. However, given the advanced content of this course, it does not fulfill the education requirements for professional standards administrators related to professional standards policy statement #49, Code of Ethics and Arbitration Manual. This training will meet the six hour core standards educational requirement for Chief Staff.
Comments From Previous Attendees:
"One of the best courses I've ever taken, don't mess with success."
"Excellent instruction, real world scenarios, wealth of information."
"Constant switch of tasks keeps course interesting."
"As an educator, trainer, and author, I am blown away by what must have been an incredible amount of time and coordination to create the material."
"Everything was absolutely wonderful, informative, and enlightening."
"Procuring cause exercise was excellent."
"Trainers were excellent."