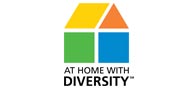 Since 1998, the At Home With Diversity® course has been equipping REALTORS® with the tools they need to expand homeownership opportunities for the growing number of diverse buyers and sellers. This 7 to 8 hour course addresses issues of diversity, fair housing, and cultural differences and presents how to conduct business in culturally competent ways. Real estate professionals who adapt to increasing cultural diversity in the market and who wisely plan to meet the needs of diverse clients gain a competitive edge and expand opportunities.
The At Home With Diversity® Course will teach you how to:
Assess and understand attributes of diversity in local markets and their impact on the real estate industry
Build a business plan and selling strategy to successfully serve all clients
Earn the confidence of potential buyers and sellers, regardless of race, ethnicity, religion, gender, handicaps, familial status, or national origin
Taking the At Home With Diversity® course allows you to:
Apply for At Home With Diversity® Certification
Earn Continuing Education Credit in most U.S. states
Receive credit toward the ABR®, CIPS, CRS, RSPS and PMN designations
Course cost varies by location. See the current course schedule or take the course online.