The Challenge
In this digital age, hyper-connected consumers think they can do anything and everything with a click of the button, including buying a home. The current real estate landscape gives consumers false hope that the process is as simple as seeing your dream house online, selecting it and moving in. This is an idealized fantasy perpetuated by house hunting shows, easy apps and a DIY mentality.
What many of these consumers don't realize is that real estate transactions are fraught with ups and down, ins and outs, and pitfalls along the way to their dream home.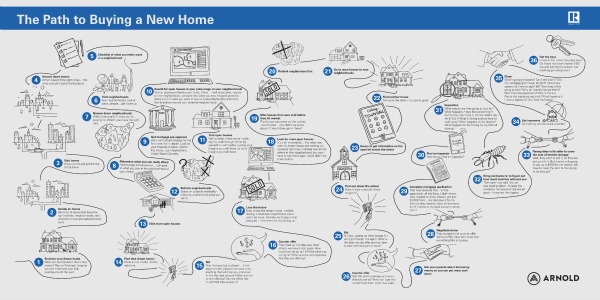 See a larger version of this image.
Easy online access to information also makes consumers reluctant to reach out to professionals, including Realtors®. In fact, for Millennials, contacting a Realtor® is one of the most anxiety-inducing parts of the homebuying process. We call this "FORO", or "Fear of Reaching Out."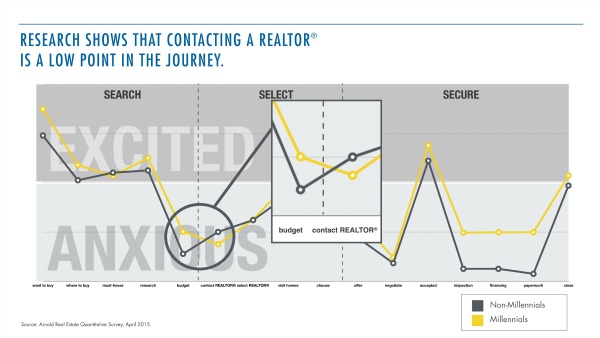 See a larger version of this image.
NAR's new advertising creative illustrates the knowledge gap between what today's hyper-connected consumer might think they know and how a Realtor® can help them succeed, whatever their real estate goals may be. In other words, consumers need to "Get Realtor®."
And it's not just about what we're saying, but how we're saying it. We need to reach consumers where they're most receptive to our messages. That means more digital, more social – more engagement. Traditional media like TV and radio are still important, but consumers are increasingly going mobile, getting content on-demand, and sharing information across their social networks. And that's where Realtors® need to be.
Get Realtor®
The Get Realtor® campaign aims to define Realtor® brand value among the hyper-connected and financially optimistic consumer audience, and particularly among up-and-coming generations of home buyers, sellers, owners and investors. We want today's consumers to understand that Realtors®:
Bring unflinching optimism to the home buying and selling process
Are their competitive advantage
Understand and have insights into local markets
See what can't be uncovered in a simple online search
Are consumer advocates; they will fight for consumers' real estate dreams
The Goal
Consumers don't know what they don't know. The goal is to build Realtor® brand awareness, contemporize consumer perceptions of Realtors® and drive consideration of Realtors® in the new digital ecosystem - reminding consumers about the value Realtors® provide throughout the home buying and selling process.
The idea behind the campaign's newest creative theme, "Unflinching Optimism" is to showcase the assurance, enthusiasm and the "yes we can" attitude Realtors® bring to the home buying and selling process and convince Millennials they shouldn't go it alone to achieve their dreams of homeownership. The campaign's strategic platform persuades hyper-connected consumers, particularly younger Millennials, to completely rethink the home buying experience by demonstrating how a Realtor® is exactly what they need to overcome every obstacle and make the home of their dreams happen.
Measuring Success
NAR fielded a baseline consumer tracking study in November 2015, to assess current consumer perceptions of Realtors® and the Realtor® brand against dimensions of value, trust and innovation. Changes in consumer sentiments and intention to use a Realtor® will be tracked every 6 months to measure campaign effectiveness.
Performance of specific creative executions will be measured via click-through rates and consumer engagement metrics including shares and comments.
A random sample of Realtors® from across the country will also be surveyed to assess engagement with and affinity for campaign elements.