Get Realtor® print materials showcase all the obvious and not-so-obvious ways a Realtor® adds value in both residential and commercial real estate transactions and how a Realtor® can help consumers succeed.
Check out some print ad samples below or visit NAR's ad generator to customize an ad for your own state or local Realtor® association. You will be able to preview your customized ad online. After you approve the preview, you can then generate a high-resolution PDF suitable for publication or to distribute at events.
As established by the user guidelines, individual members CANNOT customize consumer advertising campaign materials but can use these materials as-is in their own outreach. However, members may utilize the materials as-is by downloading all materials available on these nar.realtor Consumer Advertising Campaign pages (like the print advertisements below).
Blueprint ads: Reinforce the value of using a REALTOR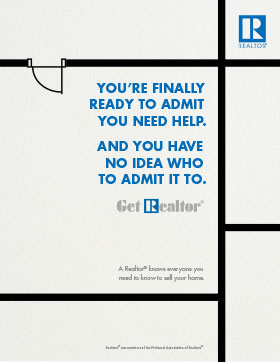 Other blueprint ads
"Based on your knowledge of building codes, the basement could definitely probably be finished. Maybe."
Download (PDF: 942kb)
"You'd fight for every penny your house is worth. If only you knew how many pennies that was."
Download (PDF: 942kb)
"Face it: When it comes to bidding wars, you're a pacifist."
Download (PDF: 941kb)
"You're finally ready to admit you need help. And you have no idea who to admit it to."
Download (PDF: 942kb)
"Your house is all prepped to sell. But no one seems prepped to buy."
Download (PDF: 941kb)
REALTOR® Value ads
Only REALTORS® complete ongoing mandatory ethics training, an important reason to work with a REALTOR® when buying or selling a home.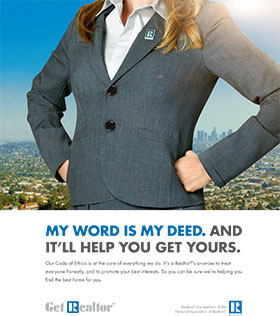 Other REALTOR® Value ads
"I used to be a real estate agent. Then I graduated."
Download (PDF: 3.00MB)
Commercial ads:
Reach members and consumers involved in the Commercial Real Estate industry.