Get Realtor® print materials showcase all the obvious and not-so-obvious ways a Realtor® adds value in both residential and commercial real estate transactions and how a Realtor® can help consumers succeed.
Check out some print ad samples below or visit the Ad Center to access all of the campaigns print materials. Through the Ad Center, Realtors® may download various print ad, and state and local Realtor® associations have the opportunity to customize ads.
As established by the user guidelines, individual members CANNOT customize consumer advertising campaign materials but can use these materials as-is in their own outreach.
Blueprint ads: Reinforce the value of using a REALTOR®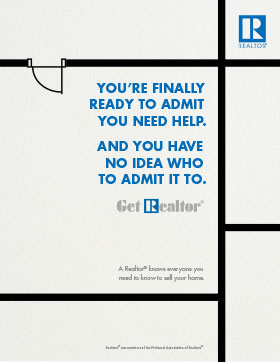 Other blueprint ads
"Based on your knowledge of building codes, the basement could definitely probably be finished. Maybe."
"You'd fight for every penny your house is worth. If only you knew how many pennies that was."
"Face it: When it comes to bidding wars, you're a pacifist."
"You're finally ready to admit you need help. And you have no idea who to admit it to."
"Your house is all prepped to sell. But no one seems prepped to buy."
REALTOR® Value ads
Only REALTORS® complete ongoing mandatory ethics training, an important reason to work with a REALTOR® when buying or selling a home.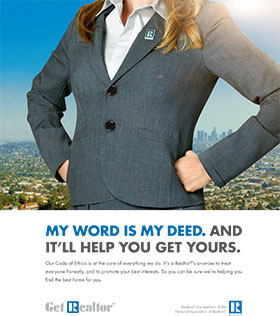 Other REALTOR® Value ads
"I used to be a real estate agent. Then I graduated."
Commercial ads:
Reach commercial practitioners and consumers searching for commercial space.