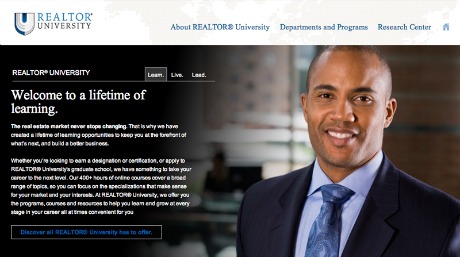 REALTOR® University's online campus allows you to complete courses and advance your career at the pace and schedule that fits your life. It offers an online Master's degree in real estate, NAR's official designation and certification courses, continuing education, webinars, videos, coaching, a library, and more.
Who is it for?
REALTOR® University is the premiere online real estate school for real estate professionals.
What does it offer?
Master's Degree in Real Estate
The courses and concentrations that make up this degree program have been tailored specifically to the needs of real estate professionals on a day-to-day basis, giving you practical, in-depth knowledge that you can use to grow your business.
Areas of concentration:
Real Estate Association Management
Real Estate Asset and Property Management
Residential Real Estate Sales, Marketing and Management
Real Estate Appraisal and Valuation Services
Commercial Real Estate Investment and Analysis
Designations, Certifications & Continuing Education (CE) Credit
NAR and its affiliates provide a wide range of programs and services to help you increase your skills, proficiency, and knowledge. The coursework you need to complete for many of these designations and certifications is available online at REALTOR® University.
Continuing education credit is available in more than 40 states.
Tablet-friendly Courses
More than 30 of the courses offered at REALTOR® University are tablet-friendly, allowing you to use portable, touch-screen technology to learn wherever you have a wireless internet connection.
Want to learn more?

Visit the REALTOR® University web site.