Enough buyers begin their searches on a digital device these days that the information you present online about yourself and the properties you represent will be the first impression you make on potential clients.
Which Home Features Are Buyers Looking For?
Although desired home features vary somewhat according to region, type of home, and buyer demographic, there are certain features that are consistently attractive to today's buyers. Interestingly, though, the importance of those features to searchers is very different depending on whether the home is new or previously owned.
According to the 2013 Profile of Buyer Home Feature Preferences, here are some of the differences in importance to the home searchers surveyed about interior design features: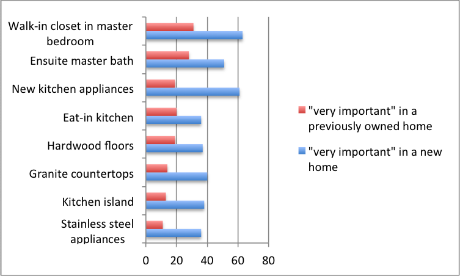 What Do Buyers Want to See in an Online Property Listing?
Photos. People want photos. They also want detailed information about the property—all the information they'll need to imagine themselves living there, to help them decide if the home is right for them.
The 2012 Profile of Home Buyers and Sellers reports the following responses to questions about the value of web site features: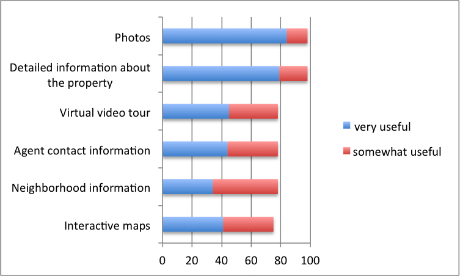 How Are Mobile Devices Being Used for Online Home Searches?
Mobile devices now play a large role in home searches. Eighty-nine percent of new home shoppers use a mobile search engine, and 68% use a mobile application when doing research on available homes.
According to the joint study by NAR and Google, Digital House Hunt, buyers use mobile devices to:
Read general home information
Get directions to visit a home
Compare prices
Compare features
Search a listing company's inventory
Call a brokerage
Educate Yourself
Learn more about marketing yourself and properties online by attending NAR Tech Edge and the ePRO® course.
Read the Research
Find out more about buyers, their use of digital devices and tools when searching for a home, and their home feature preferences in these reports:
Purchasing a home is an important life decision, and many factors can influence the home choices buyers make. The 2013 Profile of Buyers' Home Feature Preferences examines the features buyers prefer when it comes to purchasing a home, as well as the differences in preferences when it comes to factors such as region, demographics and household composition.
Each year, the NAR surveys home buyers and sellers to gather detailed information about the home buying and selling process. The Profile of Home Buyers and Sellers provides information on demographics, housing characteristics and the experience of consumers in the housing market, including the role that real estate professionals play in home sales transactions.
Google and NAR have collaborated to uncover trends and insights around digital media usage among home shoppers, whether they were looking for an existing home, a newly constructed home, or an apartment. Together, Google and NAR's individual research results tell a cohesive story about today's uber-connected home shopper.